It's no secret that Fall is my favorite season. I'm pretty sure it makes me quite 'basic' to say that but I'm completely fine with it. While I'm sitting here with my pumpkin candle going, Hocus Pocus on repeat in the background, and sipping on my almond milk latte with half pumpkin spice syrup (because sugar…), I was thinking about how wonderful it would be to have a Fall wedding.

When I started my business 5 years ago, it was all about the late Spring, early Summer weddings. And I guess it depends where you live, but Fall is absolutely gorgeous here in the Midwest. I'm seeing more and more late Summer and early Fall weddings creep into my calendar and I love it. The colors. The smells. The Fall-inspired food. Just. Everything.
One of my couples tied the knot last year during the Fall at a beyond beautiful Kansas City wedding. (You can see all the gorg details in this post!)
This inspired me to think about the ways to incorporate Fall elements into your wedding day. Not the cheesy bright orange, flannel, pumpkin-crazy, hay bale type of wedding (unless that's your thing). But a classy and chic soiree with just the right amount of Fall touches. You'll see a few examples from their wedding below, but also some new ones.
I hope these inspire you like they did me. And these ideas can be used for any type of soiree… not just a wedding. We're hosting a Halloween party next month and you bet I'll be stealing a few of these.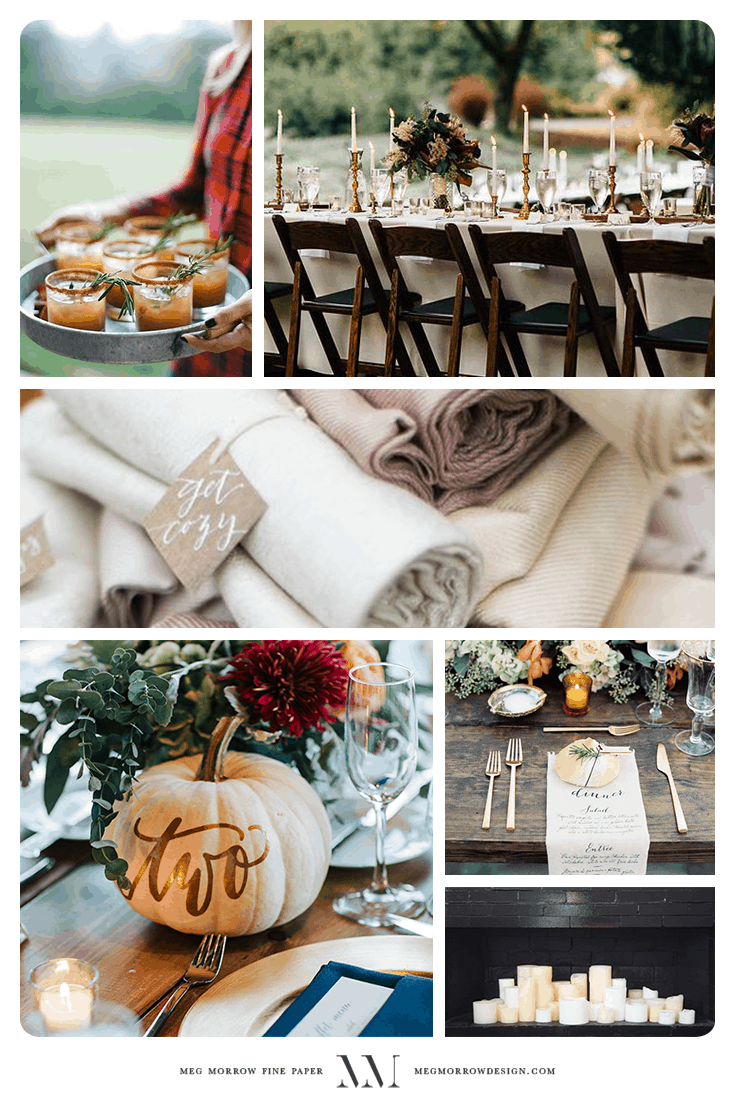 A Moody Color Palette
Think darker burgundy, marsala, navy, dark brown, dark greens, and creamy whites, ivories, and taupes.
Soft Textures
Add a basket of blankets for your guests to curl up in or decorate cocktail tables with super plush tablecloths. Linen and soft white silk are always winners in my book.
Natural Wood
Tables, chairs or chargers – dark is best.
Strategic White Pumpkins
You don't want to go overboard. Strategic placement is the key here. I LOVE the look of small white pumpkins climbing up the stairs in the photo below.
Farm-to-Table Cuisine
Autumn favorites and carefully chosen dishes that bring warmth to everyone around the table. Fall foods are one of the best parts of the season so take advantage!
A Crisp Autumn-Inspired Signature Drink
Maybe a blackberry or apple cocktail… or go classic with an apple cider mule.
Rich Paper Colors & Understated Foil
Stationery for a Fall wedding can be a little more dramatic and give off a more sultry vibe than Summer wedding stationery. Think dark papers with copper or gold foil. But not super shiny. Understated elegance is key. Adding a velvet or silk ribbon and a moody pattern envelope liner can add just the right amount of texture to your invitation suite.
Candles, Candles, Candles
I have this thing about candles that I'm sure my husband to shed a little more light on. But they have to be white. And I think that applies to weddings as well. There's nothing better than walking into a dim room filled with the glow of candlelight. And there's something cozy about it when there's a crisp coolness to the air. Use real candles. But if you can't, I found the most perfect Costco steal the other day thanks to my friend Jana over at Happy Wife Healthy Life. Check them out here!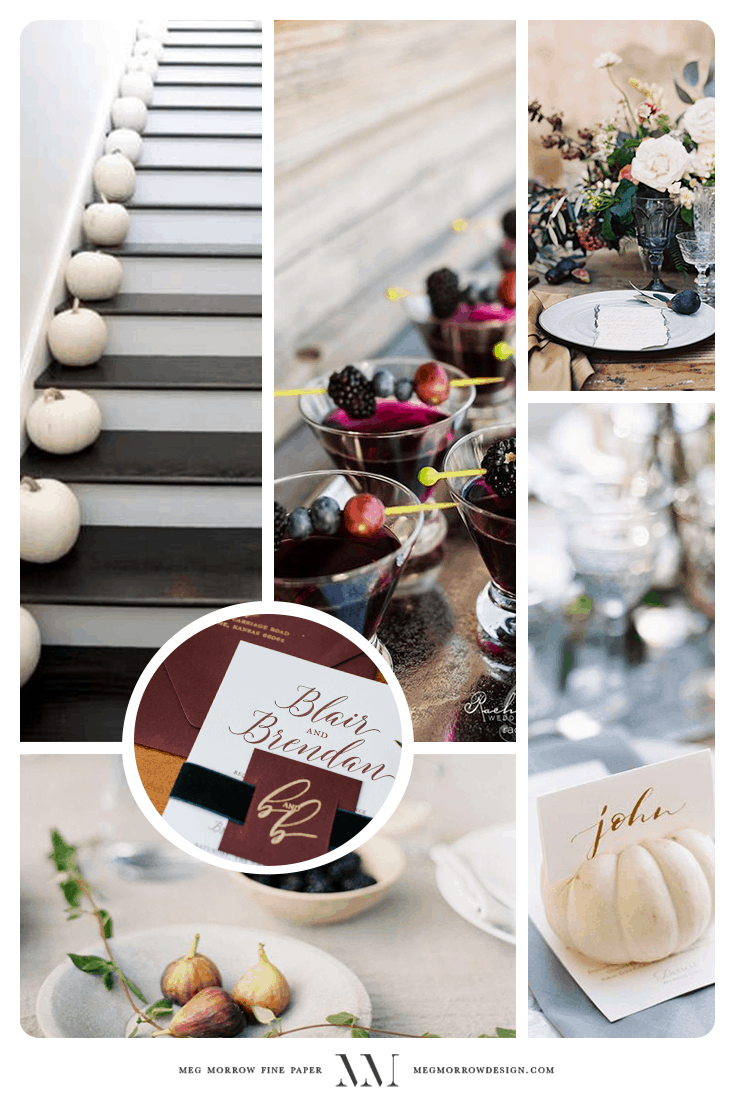 Head over to my Fall Pinterest board to view all the photos used in these inspiration boards. And check out some other wedding inspiration while you're there!
Blair & Brendan's photos: The Grays Photography