Congratulations! This season of life is one to be celebrated and cherished. Selecting your wedding stationery should be an enjoyable process and a significant detail in the story of your wedding day. It's the first glimpse your guests will see and a keepsake for you to treasure long after the day is over.
The Wedding Stationery Collection Guide will help you navigate the MMFP Semi-Custom Collection process and the customization options available. Please read and refer to this guide while preparing to submitting your invitation order.
Are you interested in a Custom Designed wedding invitation suite? Please click here to inquire in our Custom process.
Custom invitations have a minimum order of $2,500.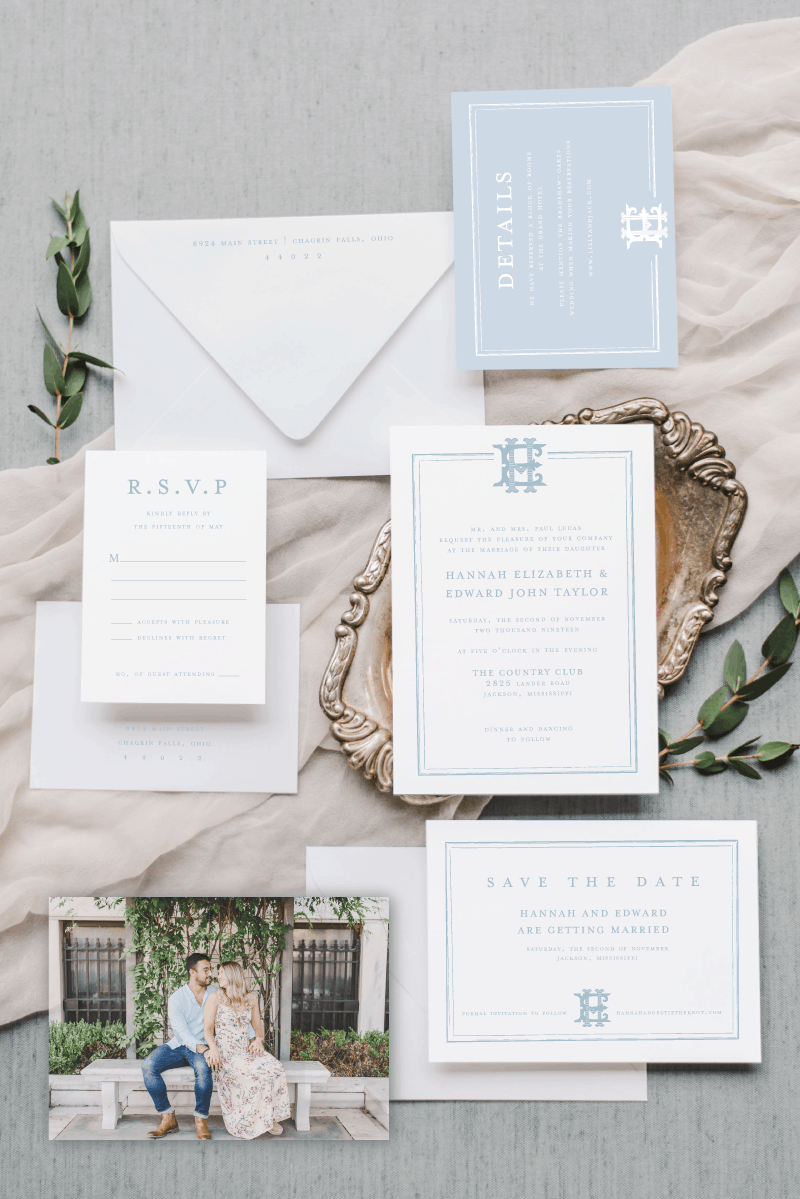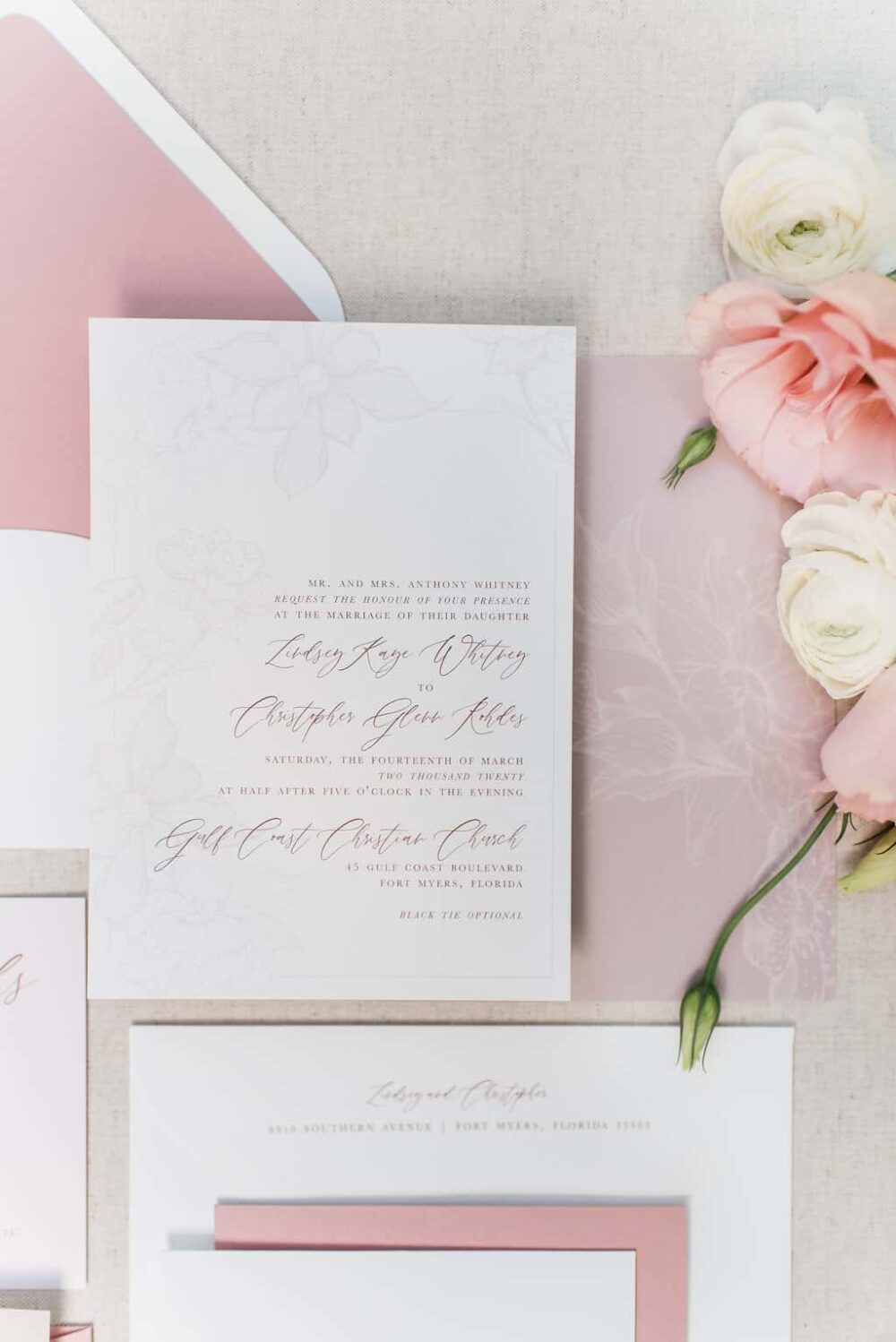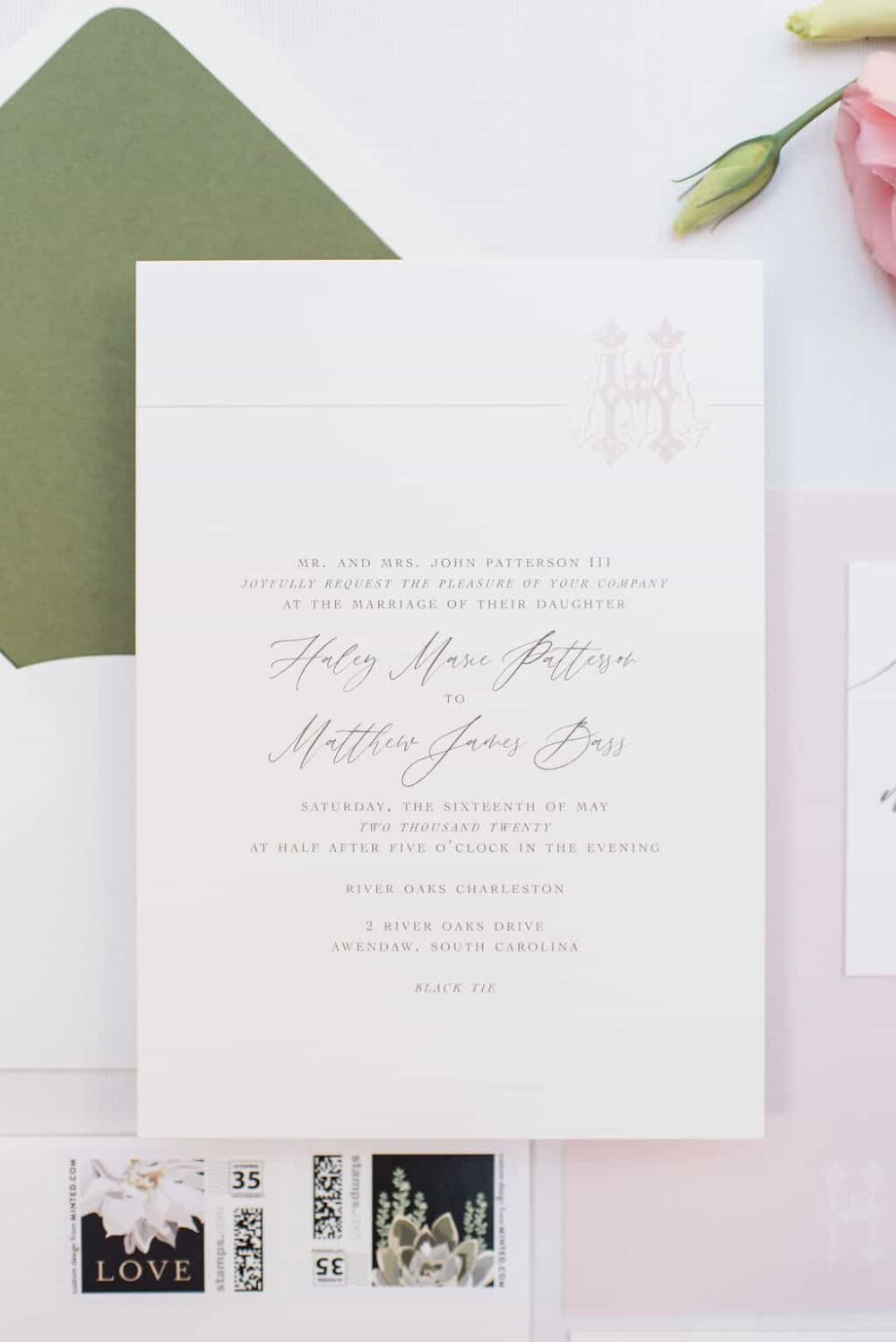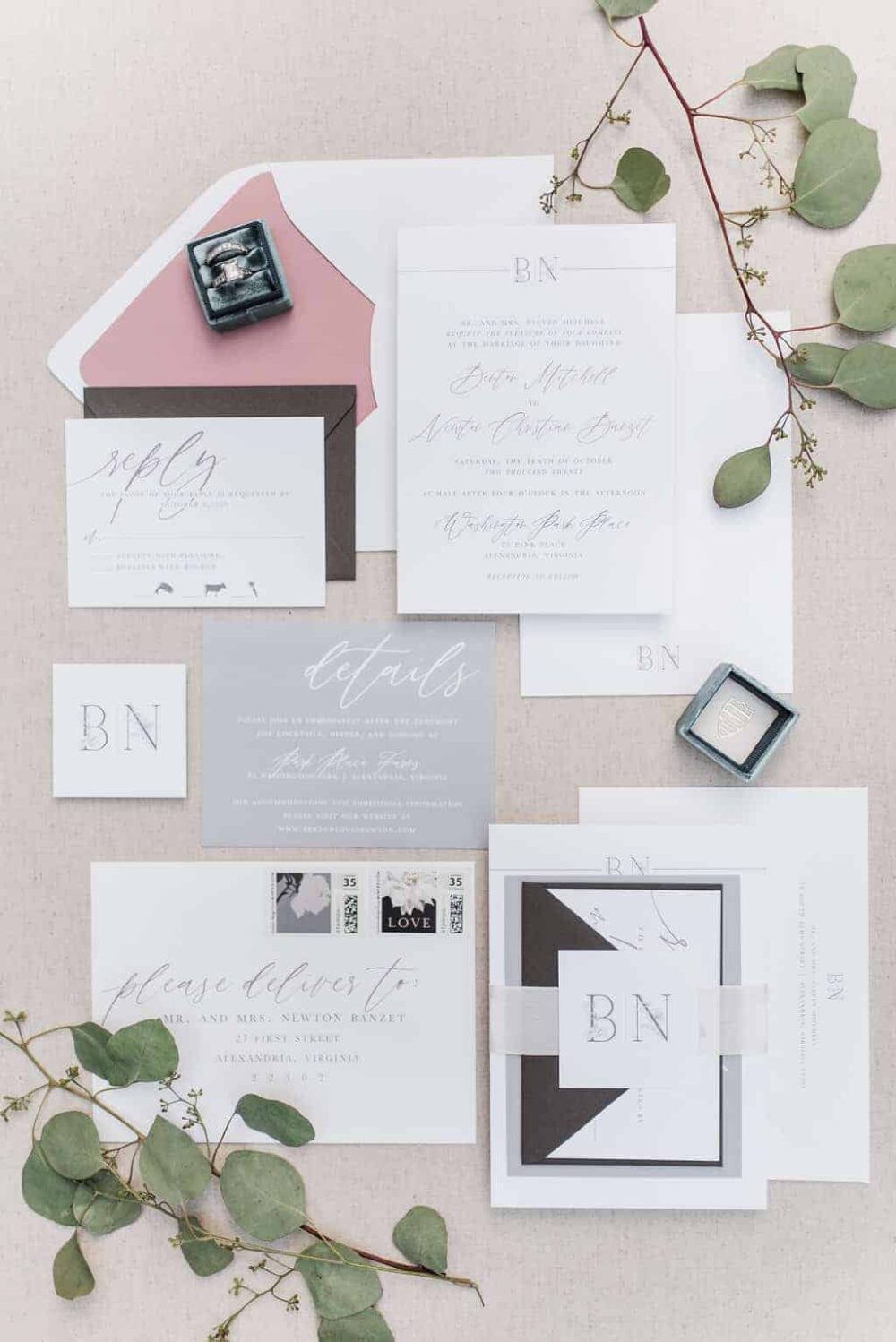 The Meg Morrow Wedding Collection features semi-custom invitation suites and coordinating wedding day paper that is carefully curated and tailored to fit your wedding vision. Customized with your details and wedding colors, the semi-custom Collection makes ordering fine stationery a simple process. Our goal is to deliver cohesive, superior quality stationery from save the date to thank you card.
Collection Invitation Timeframe = 4 weeks for digital printing,
8 weeks for letterpress or foil printing*
Below is a step-by-step guide to the ordering, design and shipping process for your wedding invitations.
Choose Your Style
Our Wedding Collection includes 18 suites perfect for a range of wedding styles. Browse through the Collection and select a style that will coordinate with your wedding and more importantly, that you love! Or schedule a design consultation to discuss your stationery needs, questions and let us help you create a design plan.
Place Your Order
Once you're ready, select your favorite invitation design style from the Collection Shop. Choose the print method and paper type that compliment your wedding style and fit your budget. You'll also decide what quantity you need to send an invitation to each household, as well as any extras for last minute guests, detail photos, and keepsakes.
A form is included on each suite page where you will submit all the details for your invitation. We need these forms complete and as accurate as possible at the time of order.
Order your Embellishments
Visit the Embellishments page to choose any additional items you would like to add to your suite. These include beautiful add-ons like wax seals, envelope liners and silk ribbons. 
Design
Design begins once you submit your order. We will design a full proof of your wedding suite with your selected colors and embellishments. If we have any questions, we will reach out. If not, please expect a proof within 7 business days.
Refine
You will have 3 business days to review your proof and respond with any adjustments. Collection suites include 3 full rounds of revisions for free!
Once you're happy with your proofs, you'll give your final approval via email. Nothing prints until you approve!
Digital & foil printed suites require 10 business days for printing following final approval. Suites with letterpress require 4 weeks printing time. This process cannot be rushed due to the nature of letterpress printing.
Printing & Delivery
Your invitation suite order will be printed, inspected for perfection, and carefully packaged and shipped to you! Tracking information will be sent to you at the time of shipment.
Once you receive your invitations, now is a great time to order your day-of stationery! These day-of items can include everything from ceremony programs to signature drink signs and menus – all matching your invitation suite style! 
*Please allow an additional 4 weeks in design time if you are ordering a custom monogram, custom watercolor or venue drawing.
What's included in a suite?
The elements of your wedding invitation will vary according to the type and style of your wedding, along with the other events of the weekend. The invitation suite below represents the typical cards and envelopes in a full invitation suite.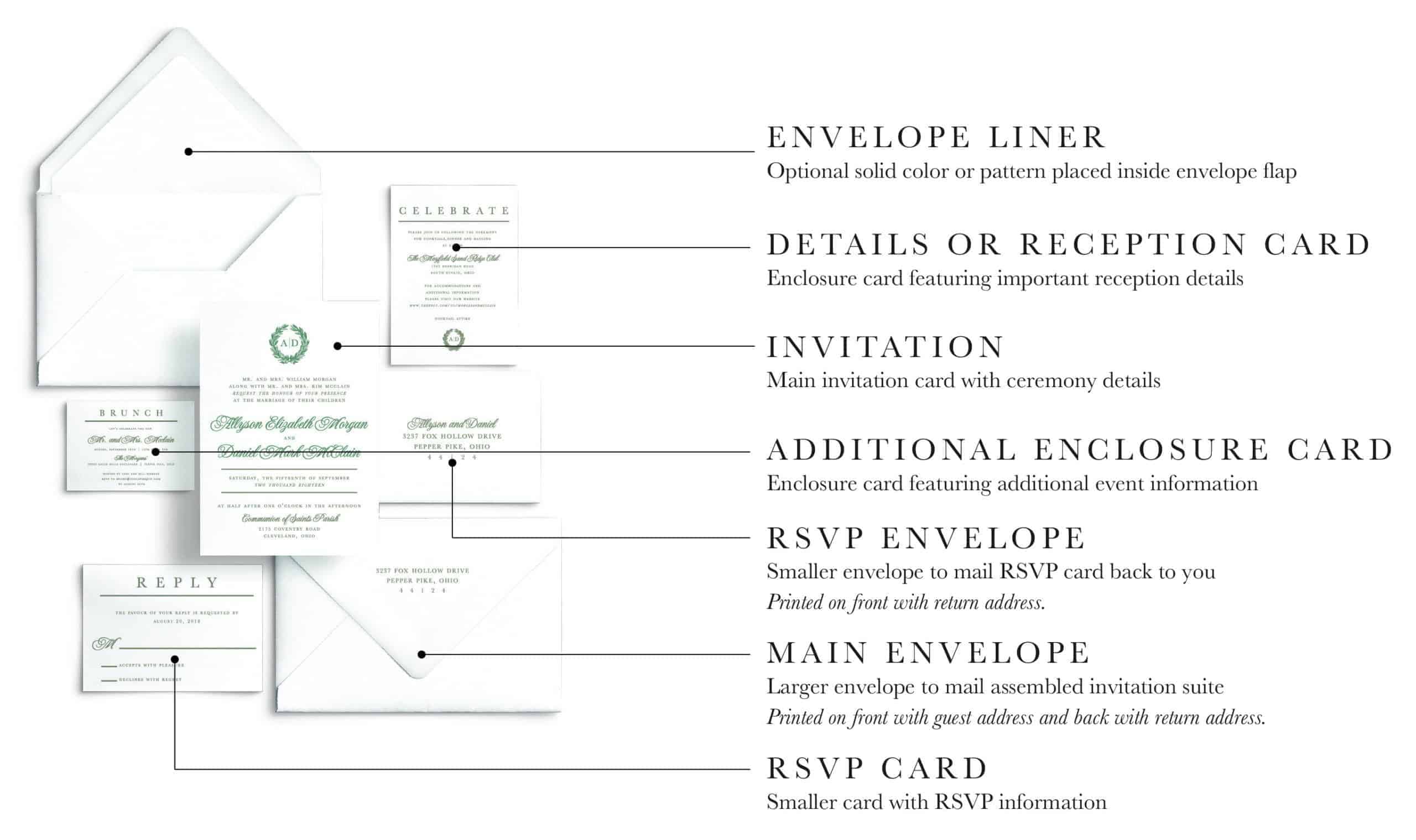 Meg was a dream to work with – we were so happy with the final results for our invitations. 
I worked with her to customize one of her suites and it was absolutely beautiful. She understood my vision and made it even better. I would recommend for anyone – whether you know exactly what you want or not – she has impeccable taste, high quality products and will make sure you have everything on time.
Please find the month of your wedding to refer to our suggested ordering & mailing timeline. Please note that these timelines are based on a mail date of 6-8 weeks prior and a production time of 4 weeks.
February
Order your invitations in October
Mail your invitations in December

March
Order your invitations in November
Mail your invitations in January

April
Order your invitations in December
Mail your invitations in February

May
Order your invitations in January
Mail your invitations in March

June
Order your invitations in February
Mail your invitations in April


August
Order your invitations in April
Mail your invitations in June

September
Order your invitations in May
Mail your invitations in July

October
Order your invitations in June
Mail your invitations in August

November
Order your invitations in July
Mail your invitations in September

December
Order your invitations in August
Mail your invitations in October
Printing Styles
Digital
Digital printing is a standard style of printing producing a smooth, flat finish. This is the most common printing method. All digitally printed invitation suites are printed on a premium Eggshell finish paper in your weight and color choice.
Letterpress
Letterpress printing is a luxurious form of printing where a plate is pressed onto paper to produce a deep impression. Letterpress plates are created for each color that is imprinted, so pricing is based on the number of colors used. Letterpress invitation suites are printed on Crane's Lettra Cotton paper in your weight and color choice.
Foil
Foil stamping is similar to letterpress printing, but uses metallic foil instead of ink to achieve a metallic finish. Foil is available in silver, gold, rose gold or black and all foil stamped invitation suites are printed on Crane's Lettra Cotton paper in your weight and color choice.
Letterpress & Digital
Many couples love the luxe look of letterpress but choose to combine letterpress and digital printing for a more cost effective option. Your wedding invitation is letterpress printed while all other pieces of your invitation suite are printed digitally. This is a favorite option among MM couples!

Paper
Envelopes
Please note, colors may not print as they are seen on screen. We do recommend ordering samples before placing your order if you aren't sure which color to choose or if you are unsure of how a certain color looks when it is printed. Ink Color Palettes are included in all Sample Pack orders.
Let's explore your wedding style
The best way to know if you love a suite is to see it in person! sample packs include samples of paper and print options, as well as a suite of your choice. 
Frequently Asked Questions
Below are some of our most frequently asked questions, but feel free to schedule a time to chat with me if you have more! Design consults are a great way to get more information on options, pricing, timelines and advice on which suite may be best for your wedding style.
How long does the ordering process take? When can I expect my order to ship?
Your wedding invitations should be ordered about 3 – 4 months before your wedding, giving you plenty of time to stamp, seal and mail to your guests. All Collection designs take about 4-6 weeks to process (including design, revisions and printing time). Additional time is required for custom design orders (5-6 months from first point of contact to delivery), so make sure you've got plenty of time to get all the details perfect.
When should I send out my Save the Dates & Invitations?
Save the Dates should be sent about 6 months before your big day. Your invitations should be sent 6-8 weeks prior to your wedding date. 
Do you offer rush orders?
Digitally printed orders can be rushed for an additional $250. Rushed orders will ship 3 business days following the final approval of your suite proof. Please note, letterpress and foil printing cannot be rushed due to the nature of the printing process.
How do you ship orders? What if I am local?
All orders are shipped via UPS or the best method available. Once shipped, you will receive your pretty package within 3-7 business days. Shipping is included in your price. If you are local, you may pick up your invitations at the MM Design Studio or delivery (within the Cleveland metro area) is available for a flat $50 charge.
How many revisions are included in the design process?
Collection pieces include THREE rounds of edits. Most pieces are edited to perfection using the allotted rounds, but if necessary, additional rounds of edits are $50 each. Custom Designed pieces include up to 4 rounds of edits, but I will work with you to get your design perfected as needed. 
What type of paper do you use?
All Digital Collection suites are printed on your choice of single-ply or double-ply Eggshell paper in Pure White or Soft White. All Letterpress and Foil orders are printed on Crane's Lettra Cotton paper in your choice of single-ply or double-ply Pure White or Soft White. 
What if I am interested in something more custom?
My Custom Design option is the most personalized and unique way to design your wedding paper goods. I start by getting to know you, your event and your personal style. We sit down for coffee and determine your needs, your wants and all your wedding dreams. Show me your Pinterest boards and magazine clippings and we'll chat about the best options for your invitations or other day-of goods.
Each wedding is different. We will work together to create something beautiful and uniquely you. Because of the personalized service you receive with the Custom Design option, design fees start at $750 and include a customized wedding logo and brand board. There are endless options for custom invitations. Please contact me for more information on custom invitations.
I am a California based wedding planner and we used Meg for one of my clients' weddings this past June 2019.
I am a California based wedding planner and we used Meg for one of my clients' weddings this past June 2019. Having worked with many other designers, I can tell you that Meg's attention to detail, responsiveness, and enthusiasm is superior to anyone else I've ever worked with in the industry. She truly cares about the product she's putting forth and goes above and beyond to make sure every detail is addressed. The process was stress-free and her stunning paper goods were delivered on time and were even more beautiful than expected.
– Lindsay T.
Cloud Nine Event Company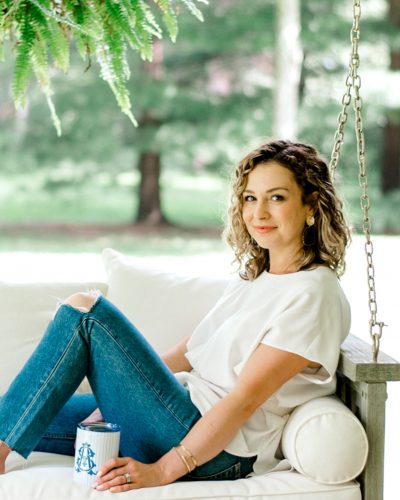 GET TO KNOW THE DESIGNER BEHIND THE COLLECTION
Meg Morrow is a graphic designer and wedding stationer at Meg Morrow Fine Paper, where she designs chic wedding stationery and fine paper details for life's major celebrations. Located outside of Cleveland, Ohio, she works with engaged couples and top wedding planners around the country and has been featured in various publications including Style Me Pretty, The Knot, Snippet & Ink, and Borrowed & Blue.